BUY PEPTIDES FOR SALE ONLINE
Welcome to USA Peptide Store, the most reliable online USA peptides shop offering a wide range of peptide products including Bioregulator Peptides, Cosmetic and Topical Peptides, IGF-1 Peptides, Melanotan Peptides, Peptide Blends, HGH Peptides, Research Peptides Capsules,  and more. Our extensive selection of high-quality peptide products ensures that you'll get the results you need.
Our products are sourced from reputable manufacturers and are subject to strict quality control measures to ensure their efficacy and safety. With our commitment to providing exceptional customer service and our dedication to quality, USA Peptide Store is the go-to destination for all your peptide needs.
Find peptides with ease, at USA Peptide Store – your one-stop online shop for all your peptides needs, from bioregulator peptides to research peptide capsules and everything in between.  Trust us to deliver top quality peptide products to your doorstep.🔥💪🌟 #USAPeptideStore #OnlinePeptideShop #HighQualityPeptides #ResearchPeptides #ReliableService
In the event you're not interested in Other Peptides, we also have other peptide products for sale such as: Bioregulator Peptides, Cosmetic and Topical Peptides, IGF-1 Peptides, Melanotan Peptides, HGH Peptides, Peptide Blends and Research Peptides Capsules.
WARNING: These products are NOT for human use and can be harmful if ingested. These products are for research and laboratory use only. These products are NOT in a sterile solution and are NOT to be injected. These products should only be handled by licensed, qualified professionals. These products are not drugs, food, or cosmetics and should not be misused, misbranded or mislabeled as drugs, food or cosmetics.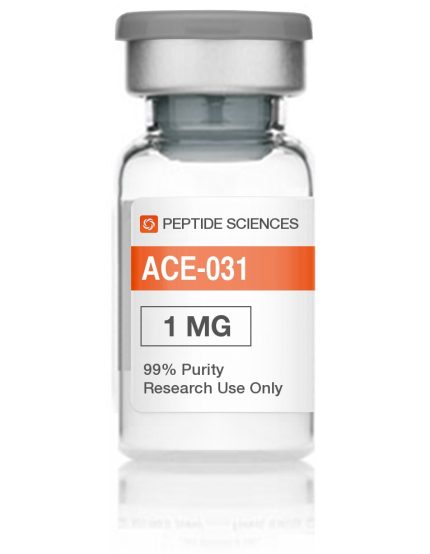 ACE-031 is a soluble form of activin receptor type IIB. ACE-031 supports muscle growth by attaching to myostatin and other negative regulators of muscle mass. This research peptide is used for investigational study only by professionals in this industry. Studies and ongoing tests, so far have determined it to be a potent peptide with the ability to increase mass in muscle cells. With these findings, it could mean help a future treatment for muscle wastage diseases and more.
ACE-031 is a synthetic protein made up of activin receptor type IIB and the immunoglobulin G1-Fc (IgG1-Fc). It binds to myostatin and related proteins within muscle, rendering them inactive. Research shows it to be useful in stabilizing muscle mass and strength in both primary muscle-wasting disorders and neuromuscular conditions.
PRODUCT USAGE WARNING :
This PRODUCT IS INTENDED AS A RESEARCH CHEMICAL ONLY.
 This designation allows the use of research chemicals strictly for in vitro testing and laboratory experimentation only. All product information available on this website is for educational purposes only. Bodily introduction of any kind into humans or animals is strictly forbidden by law. This product should only be handled by licensed, qualified professionals. This product is not a drug, food, or cosmetic and may not be misbranded, misused or mislabled as a drug, food or cosmetic.
Peptides
Amino Acids and Polypeptides
Amino acids are compounds that combine to form proteins. They are also needed for vital processes such as the synthesis of hormones and neurotransmitters, as well as the building of protein. If you would like to buy amino acids for your research projects, we have a wide range of products for you. Scroll up to view our full range of amino acid research hormones and polypeptides for sale.
What are Amino Acids?
According to scientific research, amino acids are organic compounds composed of oxygen, hydrogen, nitrogen, and carbon. When proteins are broken down, amino acids are left. They are used to make proteins, which help grow, repair, break down food, and create energy. Ultimately, amino acids function as a source of energy and are classed into three groups:
Essential amino acids
Nonessential amino acids
Conditional amino acids
Essential Amino Acids
Your body requires 20 different amino acids to function optimally. However, only nine amino acids are considered essential: histidine, isoleucine, leucine, 
tryptophan
, valine, lysine, 
methionine
, phenylalanine, and threonine.
Nonessential Amino Acids
Nonessential amino acids include: alanine, arginine, asparagine, aspartic acid, glycine, proline, serine, tyrosine, cysteine, glutamic acid, and glutamine.
Conditionally Essential Amino Acids
Conditional amino acids are mainly essential in times of illness and stress. These acids include: arginine, cysteine, glutamine, ornithine, proline, serine, tyrosine, and glycine.
What is a Polypeptide?
Polypeptides are chains of amino acids linked together by protein bonds. Short polypeptides are named based on the number of monomeric amino acids that make them. For example, a dipeptide is comprised of two amino acids sub-units and a tetrapeptide is made of four amino acid sub-units. At the end of every polypeptide, known as the amino terminal, there is a free amino group. At the other end, there is a free carboxyl group known as the carboxyl terminal. A polypeptide amino acid sequence is determined by the codons in the mRNA molecules from which it was converted.
Buy Amino Acids Online
Are you wondering where to buy amino acids online for your research purposes? We have a number of research amino acids for sale above for you to browse through. From polypeptides to tripeptides and more, we have everything you need for your scientific research.
Purchase peptides
 from the United States here.
Importance of Amino Acids and Polypeptides
According to studies, amino acids play a vital role. Currently, scientists are performing extensive amino acid and polypeptide research to gain a fuller understanding of their effects. Amino acids in medicine are continually being explored in clinical research and in animal studies for more information on their functions. While not FDA-approved, you can buy polypeptides and amino acid proteins for your research studies.