BUY FOLLISTATIN 315 PEPTIDE FOR SALE ONLINE
What Is Follistatin 315?
Follistatin 315 is one of three naturally occurring isoforms of follistatin. All forms of the globular protein bind activin, a protein that has a variety of effects depending on the tissue under consideration. For instance, activin induces cell proliferation in some tissues and restricts it in others. Follistatin, which inactivates activin, therefore has the opposite effects.
The actions of follistatin are not just limited to activin, however. It also binds to myostatin in muscle tissue, dramatically boosting muscle cell proliferation and growth. Research shows that follistatin is also involved in the inflammatory response, plays a role in development of the embryo, and influences fertility.
Follistatin 315 Peptide For Sale online only at USA Peptide Store where you can buy USA Research Peptides online. Shop over 100 research peptides online now for fast shipping and the best deal! Buy in bulk and Save! USA Peptide Store Your #1 Trusted USA Research Peptides Supplier.
If this product does not meet your needs or interests, you may want to look at Follistatin 344 Peptide 1mg. Please visit this link for further information on our Other Peptides
---
Follistatin 315 Structure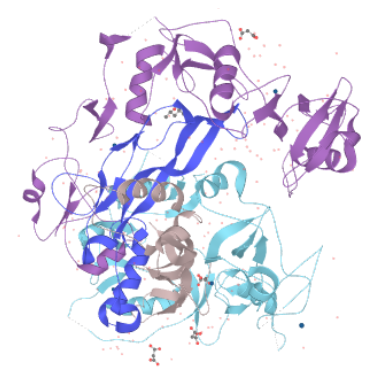 Structure of the unedited (full-sized) follistatin protein
Source: Uniprot
Sequence: G NCWLRQAKNG RCQVLYKTEL SKEECCSTGR LSTSWTEEDV NDNTLFKWMI FNGGAPNCIP CKETCENVDC GPGKKCRMNK KNKPRCVCAP DCSNITWKGP VCGLDGKTYR NECALLKARC KEQPELEVQY QGRCKKTCRD VFCPGSSTCV VDQTNNAYCV TCNRICPEPA SSEQYLCGND GVTYSSACHL RKATCLLGRS IGLAYEGKCI KAKSCEDIQC TGGKKCLWDF KVGRGRCSLC DELCPDSKSD EPVCASDNAT YASECAMKEA ACSSGVLLEV KHSGSCNSIS EDTEEEEEDE DQDYSFPISS ILEW
Molecular Weight: 3470 g/mol
PubChem CID: 178101631 (Full follistatin protein)
Synonyms: Activin-Binding Protein, FSH-Suppressing Protein, FST, FST-315
---
Follistatin 315 Research
The full effects of follistatin are not entirely known. The protein was first isolated from ovarian follicular fluid and was described as an inhibitor of follicle-stimulating hormone. Research has revealed that the intact protein begins as a 344-amino-acid precursor that is modified to create follistatin 315, 300, or 288. These various isoforms have similar effects, but are found in different tissues.
Research shows that disrupting the follistatin gene in newborn mice results in death within hours as a result of failed lung development. The knockout mice also have shiny skin, a number of facial deformities, defects in the axial skeleton, and impaired ovarian development. Attempts to rescue these mice by genetically engineering them to produce human follistatin 315 has revealed that the protein plays roles in blood vessel growth, muscle development, fat deposition, regulation of inflammation, and heart muscle function.
Follistatin 315 Research and Muscle Function
Early research on follistatin 315 led to the production of the mighty mouse, an experimental mouse that had four times the amount of muscle compared to the average mouse. Research showed that knocking out the myostatin gene gave these mice twice the muscle mass of controls. Extending that research revealed that a dual-approach that involved knocking out the myostatin gene and stimulating the overproduction of follistatin could boost muscle growth even further.
With follistatin turned up and myostatin turned down/off, mice in the experiment developed four times the muscle mass of regular mice. These findings indicate that follistatin likely affects muscle growth in several ways. First, it inhibits myostatin and thus reduces the limits it puts on muscle growth. Second, follistatin clearly stimulates muscle growth via a pathway that does not involve myostatin. To date, that pathway has not been determined.
Research in mouse models of spinal muscular atrophy (SMA) indicates that follistatin offsets the loss of skeletal muscle common in this condition. It is important to note that muscle loss in SMA is a secondary effect caused by death of the nerve cells, in the spinal cord, that connect to muscles.
Even though follistatin acts to inhibit myostatin, and therefore should primarily affect muscle tissue, mice in the experimental group showed both enhanced muscle mass compared to controls as well as improved numbers of ventral horn cells in their spinal cords. These mice had better motor function as well and lived an average of 30% longer than untreated mice.
Testing of follistatin in monkeys indicates that the peptide can boost muscle growth in the setting of inclusion body myositis, an inflammatory disease that limits muscle growth by damaging muscle cells and causing the release of myostatin.
In short, follistatin is a potent simulator of muscle development that has at least two mechanisms. The second has yet to be elucidated, but the first involves inhibition of myostatin. It is possible that follistatin has a stimulating effect on the nerves that supply the muscles and boosts both tone and mass that way.
The Role of Follistatin in Inflammation
Follistatin appears to play a role in regulating the inflammatory response in a number of different tissues and disease conditions. Recent research in mice with a form of rheumatoid arthritis has indicated that over-expression of activin A or under expression of follistatin leads to worsening of disease. Follistatin inhibits the effects of activin A, so this dichotomy is not unexpected. Supplementing with follistatin reverses these effects and helps to reduce the clinical signs and symptoms of arthritis.
Previous research in asthma has shown elevated activin A levels in patients with mild-to-moderate disease. There is also a correlation of activin A levels with laboratory markers of disease severity. Though follistatin levels in asthma are at normal levels, they are well below what would be needed to offset the inflammation caused by excess activin A. Supplementing mice with follistatin via intranasal administration inhibits the kind of airway remodeling often seen in asthma.
Preventing airway remodeling could help to reduce the long-term complications of asthma, reduce disease severity, and lessen the need for both controller and rescue medications. This function of follistatin would extend beyond asthma to help treat a number of inflammatory diseases of the lung such as sarcoidosis, idiopathic pulmonary fibrosis, and more.
In fact, inflammation and remodeling leading to fibrosis are common reasons for failed lung transplants. This pathway of eventual transplant failure has been linked to dysregulation of activin A. There is hope that follistatin supplementation may help to reduce remodeling in transplanted lungs and thus prolong survival in this vulnerable patient population.
Extensive research indicates that activin likely plays a role in the onset of a number of inflammatory responses to disease including cachexia, septicemia, and fibrosis. Follistatin, which blocks the proinflammatory and profibrotic functions of activin A is being investigated as a potential treatment for diseases ranging from asthma to colitis.
Follistatin has even been found to inhibit the fibrosis associated with radiation therapy. In a mouse model of radiation therapy, follistatin protected against the typical inflammatory responses of increased epidermal thickness and cell nucleus area. It also decreased expression of transforming growth factor beta and smooth muscle actin, both of which are associated with fibrosis. Follistatin may therefore be a useful adjuvant to radiation therapy, allowing for higher doses or prolonged treatment and thus greater rates of remission and even cure.
As it turns out, the same effects are seen in chemotherpeutic treatments often associated with fibrosis. Bleomycin is a notorious chemotherapeutic agent in causing fibrosis, but is useful in the setting of a number of different cancers, especially lung cancer. Research in rats shows that follistatin reduces cell infiltration of lung tissues, prevents remodeling, and attenuates fibrosis for up to a month after the peptide is injected.
Blood Vessel Growth
Follistatin and activin have conflicting effects on cell proliferation that change depending on the cell type involved. In smooth muscle, activin boosts cell proliferation. It inhibits, however, the growth of endothelial cells. Under normal conditions of growth, endothelial cells express follistatin during their early development in order to ward off the effects of activin A.
Research in mice indicates that follistatin can enhance the function of endothelial cells, particularly during responses to injury. Injection of follistatin in the setting of ischemia, for instance, boosts blood vessel function and helps the body to restore blood flow to deprived tissues. This could make follistatin useful in the treatment of stroke and heart attack, but may also make it useful in settings where accelerated blood vessel growth is beneficial.
Examples of such settings include muscle repair following injury, in patients recovering from burns, and in post-surgical applications where tissue viability is dependent on rapid return of blood flow.
Follistatin Research in Kidney Disease
The fact that positive results on inflammation are associated with follistatin as well as the fact that the protein plays a role in stimulating blood vessel growth led scientists to explore whether follistatin might impact kidney disease as the condition combines both dysregulated inflammatory responses and dysfunctional blood vessel growth in its overall pathology.
In mouse models of the disease, administering follistatin reduced both cell death and measures of oxidative damage as well as overall scarring (fibrosis). As a therapeutic, follistatin could greatly reduce the rate of progression of chronic kidney disease and delay the time to which dialysis or even transplant become necessary.
Using Follistatin as a Marker of Disease
Because follistatin is associated with reduced rates of inflammation and fibrosis, it makes sense that the body would naturally produce more follistatin in the setting of disease or an unhealthy state. Research in humans suffering from cardiovascular disease shows that follistatin levels increase significantly when cardiovascular disease (e.g. plaques) begins to develop. This makes scientists wonder if follistatin might be used as a marker of early disease onset. Monitoring of follistatin levels could make it easier for doctors to intervene in disease states early in their progression, perhaps even before they are clinically apparent, when preventative treatments can have the most impact.
Research in late-stage cardiovascular disease, for instance, shows elevated follistatin levels as a result of left ventricle remodeling. This may make follistatin an excellent measure for following the progression of heart failure, which could aid doctors in decisions about when to change medication doses, when to initiate more invasive therapy, or even when a patient may be progressing down the path toward a total heart transplant.
Follistatin Is the Basis for Protein Enhancement Research
While the body produces a number of natural compounds that offset disease effects, science and modern medicine have long understood that physiologic proteins are not always ideal for exogenous treatment. This may be because they are difficult to administer, degrade to quickly, or have deleterious side effects. Modifying the proteins can help to eliminate these side effects, but the process is often haphazard and lacks core principles of engineering that would make it faster, more affordable, and more effective.
Research on follistatin is providing a model for altering naturally occurring proteins in order to boost wanted effects and limit unwanted effects. Scientists have shown that synthetic variants of follistatin can improve the protein's therapeutic potential. This research is laying the groundwork necessary to make it easier and more predictable to alter proteins for treating human disease.
Follistatin 315 exhibits moderate side effects, low oral and excellent subcutaneous bioavailability in mice. Per kg dosage in mice does not scale to humans. Follistatin 315 for sale at USA Peptide Store is limited to educational and scientific research only, not for human consumption. Only buy Follistatin 315 I if you are a licensed researcher.
Buy Wholesale Follistatin 315 From USA Peptide Store
At USA Peptide Store, our research peptides are of the highest purity and pharmaceutical grade. Our Follistatin 315 Peptide comes in 1mg. We're passionate about our products, and we always strive to provide our customers with the best in both selection and quality. All of the products we provide are tested to verify authenticity and purity, so you can conduct your research with confidence.
Searching for Follistatin 315 Peptide for sale? Look no further! Our online peptide store offers a wide range of Follistatin 315 Peptide, perfect for your research needs. Whether you're in the United States, Australia, Canada, Germany, Sweden, France, Turkey, Thailand, Italy, Netherlands or the United Kingdom, we have you covered. We provide fast and secure shipping to multiple countries, ensuring that you receive your order conveniently and on time. Purchase Follistatin 315 Peptide that are now available for sale and in stock. With our competitive prices and extensive inventory, you can trust us to be your reliable source for Follistatin 315 1mg.
Want to learn more about our products or have a question about payment options? Our customer service team is here to help.  So, what are you waiting for? order Follistatin 315 Peptide For Sale and experience first-hand quality service, prompt response and quick shipping. Stock up on the highest quality Follistatin 315 Peptide For Sale and more at USA Peptide Store today.