BUY AICAR PEPTIDE FOR SALE ONLINE
What Is AICAR?
AICAR, short for 5-aminoimidazole-4-carboxamide ribonucleoside, is a short peptide that plays a role in energy homeostasis and a number of metabolic pathways. AICAR plays a role in the regulation of insulin receptors and how muscle cells function with regards to insulin. AICAR is under active investigation for its cancer-fighting properties and for its ability to protect heart/cardiovascular tissue. AICAR is an AMP kinase (AMPK) activator.
AICAR is the activated form of naturally occurring acadesine, which is currently used in the treatment of acute lymphoblastic leukemia. Research shows that acadesine, like AICAR, has anti-cancer properties. It has also been found to play a role in inhibiting platelet function and thus in the prevention of the early stages of blood clotting.
AICAR Peptide For Sale online only at USA Peptide Store where you can buy USA Research Peptides online. Shop over 100 research peptides online now for fast shipping and the best deal! Buy in bulk and Save! USA Peptide Store Your #1 Trusted USA Research Peptides Supplier.
If this product does not meet your needs or interests, you may want to look at ARA-290 Peptide 16mg. Please visit this link for further information on our Other Peptides
AICAR Structure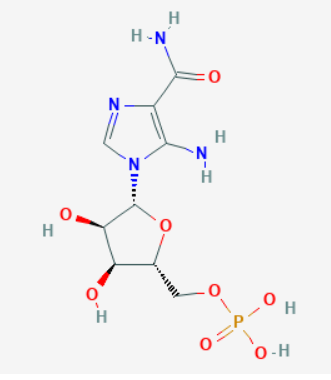 Source: PubChem
Sequence: 5-aminoimidazole-4-carboxamide ribonucleoside
Molecular Formula: C9H15N4O8P
Molecular Weight: 338.213 g/mol
PubChem CID: 65110
CAS Number: 3031-94-5
Synonyms: AICA ribonucletotide, Z-nucleotide
AICAR Effects
AICAR and Insulin Resistance
Research in mice shows that AICAR, even at low doses, reduces inflammation in adipose tissue. Inflammation in fat is associated with increased insulin resistance and reducing inflammation leads to improved glucose homeostasis and increased insulin sensitivity even without any changes in body weight. It appears that AICAR has several pathways though which it affects inflammation in adipose tissue, with at least one of those pathways involving SIRT1 and macrophages.
The impact of AICAR on adipose inflammation is not unexpected. AMPK has been found to attenuate inflammatory responses in metabolic disorders in both healthy and diabetic mice. In research in mice, AMPK activation, as is caused by AICAR, was found to improve insulin sensitivity, energy homeostasis, lipid metabolism, and inflammatory markers.
Exercise increases the number of GLUT-4 insulin receptors that are present on the surface of muscle cells. It is one of the most effective means of boosting glucose uptake by muscle cells and effectively reduces both glucose levels and insulin resistance. It turns out that AICAR mimics the effects of exercise very precisely and that repeated administration of AICAR has effects similar to long-term exercise.
AICAR and Cancer Research
AMPK plays a complex role in the growth and metastasis of cancer, both slowing and accelerating the growth of tumors under varying circumstances. Overall, research indicates that prolonged activation of the enzyme eventually leads to cancer cell death by slowing cancer cell metabolism and making cancer cells more susceptible to environmental insults. This has been demonstrated both in cell culture and in rats. Scientists are investigating the ability of AICAR to work in tandem with other chemotherapeutic agents to boost effectiveness. The thought is that AICAR might:
reduce side effects,
allow for lower dosing of chemotherapeutic drugs, and
improve outcomes in chemo-resistant tumors.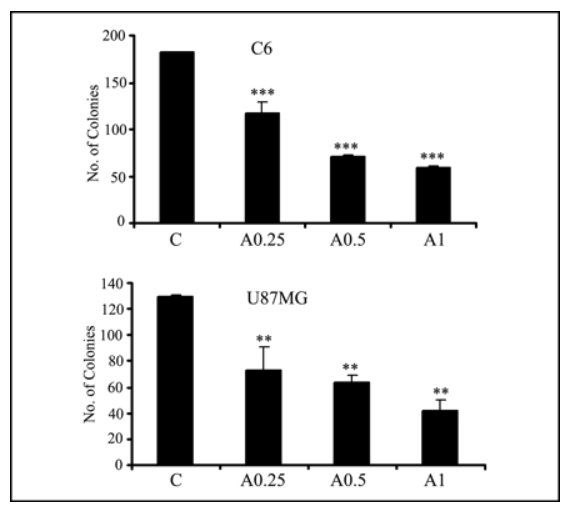 AICAR inhibits clonal growth of glioma (C6) and prostate cells.
Source: Journal of Biological Chemistry
Research in thyroid cancer cells indicates that AICAR may also operate by causing apoptosis (programmed cell death). It appears that this activity is mediated through the induction of p21 accumulation and the eventual activation of caspase 3. The overall effect is inhibition of cancer cell proliferation and survival.
AMPK activators, like AICAR, influence a number of pathways that can impact cancer growth.
Source: PubMed
AICAR Anti-inflammatory Properties
AMPK activators have been shown to play an important role in inflammation at the cellular level. Research into metformin, a common and long-used diabetes medication, indicates that at least part of the reason the drug is effective is that it reduces inflammation and boosts the function of the pancreas. AICAR has similar effects, playing a protective role in inflammatory conditions like acute lung injry, asthma, colitis, atherosclerosis, and hepatitis.
There is ongoing research into the use of AICAR to mediate the effects of auto-immune diseases and other inflammatory conditions. For instance, studies in mice indicate that ACIAR may be effective in reducing inflammation in colitis. It appears that AICAR acts as a central inhibitor of immune responses in this setting by reducing NF-kappaB activation in macrophages as well as TH1- and TH17-type cytokines.
AICAR Research and the Heart
Much of heart disease is related to inflammation. The ability to control inflammation could reduce the progression of vascular disease, including atherosclerosis. Research in rabbit models of atherosclerosis indicated that AICAR suppression vascular smooth muscle proliferation. This is not only an important component of cardiovascular disease, but is also one of the reasons that cardiac stents fail over time. Controlling vascular inflammation could reduce both short-term and long-term complications of stent placement without the need for drugs that increase the risk of bleeding.
Research also suggests that AMPK activation can suppression certain immune responses that lead to atherosclerosis. The buildup of LDL, often referred to as "bad cholesterol," leads to macrophage proliferation. This process is integral to the formation of plaques that can eventually lead to heart attack. Anything that can mitigate this proliferation has the potential to reduce heart disease and even heart attack prevalence.
AICAR Research and Fertility
A great deal of AICAR research has revolved around the ability of the peptide to improve sperm motility, energy metabolism, and fertilizing ability. Research in both cats, goats, and chickens indicates that AMPK activators like AICAR can improve sperm motility by improving energy metabolism. It appears that AICAR regulates the activity of energetic enzymes in spermatozoa and therefore impacts overall fertilizing ability.
AICAR exhibits minimal side effects, low oral and excellent subcutaneous bioavailability in mice. Per kg dosage in mice does not scale to humans. AICAR Peptide for sale at USA Peptide Store is limited to educational and scientific research only, not for human consumption. Only buy AICAR if you are a licensed researcher.
Buy Wholesale AICAR Peptide From USA Peptide Store
At USA Peptide Store, our research peptides are of the highest purity and pharmaceutical grade. Our AICAR Peptide comes in 50mg. We're passionate about our products, and we always strive to provide our customers with the best in both selection and quality. All of the products we provide are tested to verify authenticity and purity, so you can conduct your research with confidence.
Searching for AICAR Peptide for sale? Look no further! Our online peptide store offers a wide range of AICAR Peptide, perfect for your research needs. Whether you're in the United States, Australia, Canada, Germany, Sweden, France, Turkey, Thailand, Italy, Netherlands or the United Kingdom, we have you covered. We provide fast and secure shipping to multiple countries, ensuring that you receive your order conveniently and on time. Purchase AICAR Peptide that are now available for sale and in stock. With our competitive prices and extensive inventory, you can trust us to be your reliable source for AICAR 50mg.
Want to learn more about our products or have a question about payment options? Our customer service team is here to help.  So, what are you waiting for? order AICAR Peptide For Sale and experience first-hand quality service, prompt response and quick shipping. Stock up on the highest quality AICAR Peptide For Sale and more at USA Peptide Store today.