BUY TB-500 THYMOSIN BETA-4 PEPTIDE FOR SALE ONLINE
TB-500 (Thymosin Beta-4)
TB-500 Thymosin Beta-4 is a synthetic version of the naturally occurring peptide present in virtually all human and animal cells, Thymosin Beta-4. This potent peptide is a member of a ubiquitous family of 16 related molecules with a high conservation of sequence and localization in most tissues and circulating cells in the body. TB-500 not only binds to actin, but also blocks actin polymerization and is the actin-sequestering molecule in eukaryotic cells.
TB-500 Thymosin Beta-4 was identified as a gene that was up-regulated four-to-six fold during early blood vessel formation and found to promote the growth of new blood cells from the existing vessels. This peptide is present in wound fluid and when administered subcutaneously, it promotes wound healing, muscle building and speeds up recovery time of muscles fibres and their cells. An additional key factor of TB-500 Thymosin Beta-4 is that it promotes cell migration through a specific interaction with actin in the cell cytoskeleton. It has been demonstrated that a central small amino acid long-actin binding domain has both blood cell reproduction and wound healing characteristics. These characteristics are uncovered by accelerating the migration of endothelial cells and keratinocytes. It also increases the production of extracellular matrix-degrading enzymes.
Studies demonstrate that TB-500 Thymosin Beta-4 is a potent, naturally occurring wound repair factor with anti-inflammatory properties. Tß4 is different from other repair factors, such as growth factors, in that it promotes endothelial and keratinocyte migration. It also does not bind to the extracellular matrix and has a very low molecular weight meaning it can travel relatively long distances through tissues. One of TB-500 Thymosin Beta-4 key mechanisms of action is its ability to regulate the cell-building protein, Actin, a vital component of cell structure and movement. Of the thousands of proteins present in cells, actin represents up to 10% of the total proteins which therefore plays a major role in the genetic makeup of the cell.
TB-500 Thymosin Beta-4 Peptide For Sale online only at USA Peptide Store where you can buy USA Research Peptides online. Shop over 100 research peptides online now for fast shipping and the best deal! Buy in bulk and Save! USA Peptide Store Your #1 Trusted USA Research Peptides Supplier.
If this product does not meet your needs or interests, you may want to look at Tesamorelin Peptide 2mg (10 Vial Kit) & 5mg. Please visit this link for further information on our Other Peptides
Thymosin Beta 4, or TB-500, is a synthetic version of a naturally occurring 43-amino acid peptide present in nearly all human and animal cells studied.
A 2010 study in the Annals of the New York Academy of Sciences supported TB500's potential for cardiac muscle repair following injury, eg, after myocardial infarction (heart attack).  Recognizing the limitations of stem cell therapy for this application, TB500 was found to inhibit myocardial cell death, stimulate blood vessel growth, and activate cardiac processes that encouraged the heart to heal following injury.  The investigation showed that TB500 may be the first agent which can actively recover injured cardiac muscle following heart attack.  This is further supported with prior mouse studies in 2004 showing cardiomyocyte migration, survival and repair of myocardial damage.
Filamentous actin (F-actin, or actin) forms polymers that thicken sputum, adversely affecting cystic fibrosis patients.  TB500 was studied in a population of CF patients, showing a dose- and time-dependent decrease in cohesivity of sputum after administration of TB500 when combined with dornase alfa.  The combination therapy showed a 71% improvement in mucociliary transport of mucus, and a 44% improvement in cough transport of mucus.
TB-500 Thymosin Beta-4 is known to stimulate myoblasts and myocytes (muscle generating cells).  Mitochondrial RNA levels of TB-500 Thymosin Beta-4 have been shown to increase following muscle injury, helping to regenerate muscle fibers and address inflammation in the injured location.  The data support muscle injury causing increased local production of TB-500 Thymosin Beta-4, promoting migration of incoming myoblasts to accelerate skeletal muscle regeneration.
What Is TB-500?
TB-500 is a 43 amino acid synthetic analogue of thymosin beta-4 (TB-4), which is found naturally in nearly all mammalian cells. TB-500 Thymosin Beta-4is known for its effects on actin protein, cell migration, and wound healing. TB-500 Thymosin Beta-4 has been shown in animal models and in vitro studies to improve blood vessel growth, accelerate wound healing, decrease inflammation, and promote extracellular matrix production. The peptide is under current investigation for its ability to reduce oxidative stress in spinal cord injury, improve recovery following heart attack, and for its many anti-aging effects.
---
TB-500 Mechanism of Action
TB-500 Thymosin Beta-4 is the active domain of TB-4, which has a primary role as an actin binding protein. Actin is a critical component of cell structure and makes up microfilaments. Microfilaments are responsible for giving cells their shape, protecting the integrity of cell membranes, allowing cells to move/migrate, and certain steps in cellular reproduction. Actin is also one of the primary components of muscle protein. Without actin, muscles could not contract. Actin binding proteins, like TB-4, sequester actin monomers, the individual units of actin, so that they are protected from degradation and are available for polymerization into microfilaments when needed.
---
TB-500 (Thymosin Beta-4)
Sequence: Ac-Ser-Asp-Lys-Pro-Asp-Met-Ala-Glu-Ile-Glu-Lys-Phe-Asp-Lys-Ser-Lys-Leu-Lys-Lys-Thr-Glu-Thr-Gln-Glu-Lys-Asn-Pro-Leu-Pro-Ser-Lys-Glu-Thr-Ile-Glu-Gln-Glu-Lys-Gln-Ala-Gly-Glu-Ser
Molecular formula: C212H350N56O78S
Molar Mass: 4963.4408
CAS number: 77591-33-4
PubChem: CID 16132341
Synonyms: Thymosin Beta 4
TB-500 (Thymosin Beta-4) Peptide Sequence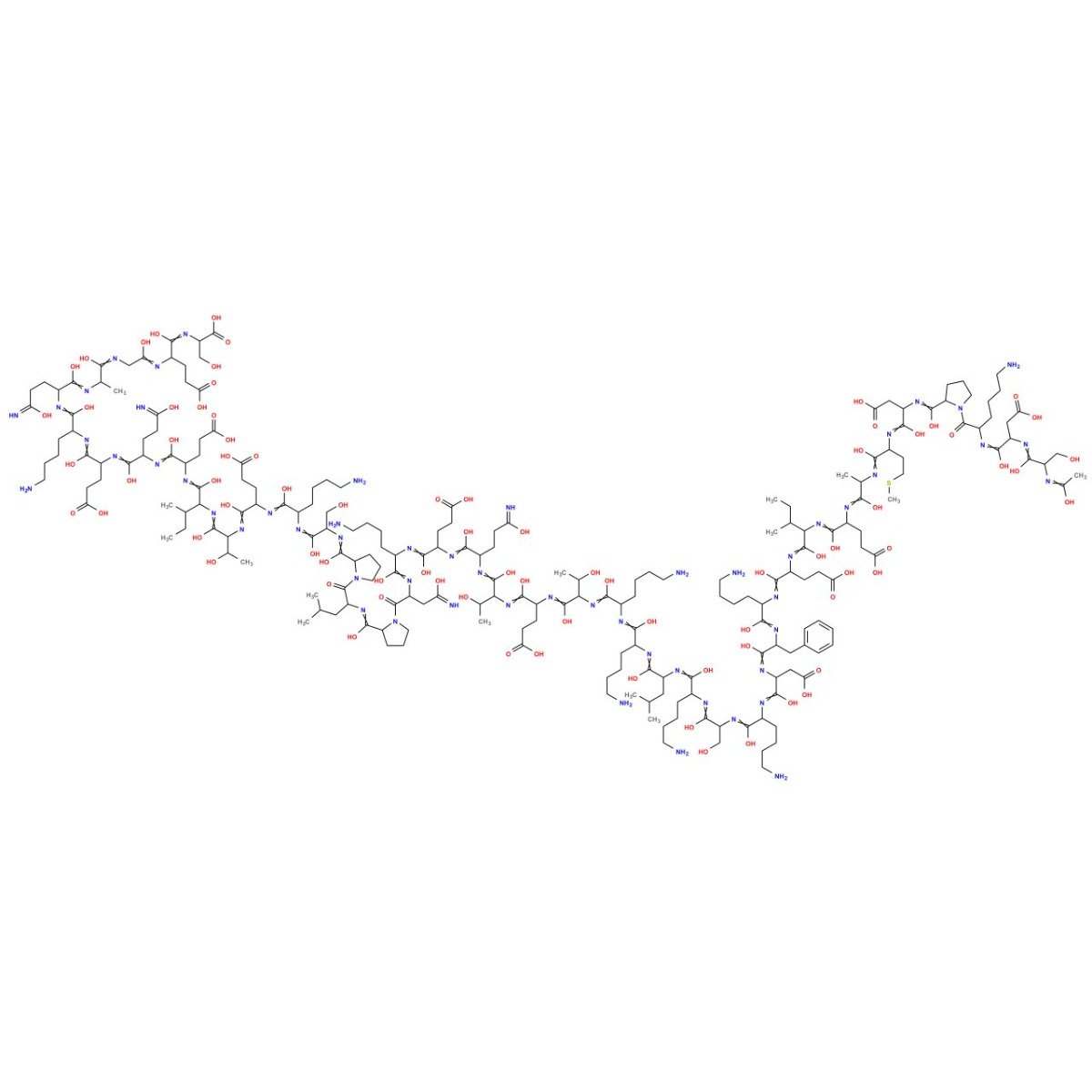 Sequence: Ac-Ser-Asp-Lys-Pro-Asp-Met-Ala-Glu-Ile-Glu-Lys-Phe-Asp-Lys-Ser-Lys-Leu-Lys-Lys-Thr-Glu-Thr-Gln-Glu-Lys-Asn-Pro-Leu-Pro-Ser-Lys-Glu-Thr-Ile-Glu-Gln-Glu-Lys-Gln-Ala-Gly-Glu-Ser
Molecular formula: C212H350N56O78S
Molar Mass: 4963.4408
CAS number: 77591-33-4
PubChem: CID 16132341
---
TB-500 Research Studies
A study completed in 2009 using .01% TB500 w/w eye drops demonstrated increased speed of healing following eye surgery in diabetics.  This population was specifically investigated due to well known healing complications in diabetics, and their predilection for eye issues, specifically diabetic retinopathy.  The study showed no serious side effects in any patient, although headache, dizziness and insomnia occurred more in the study group than the control.  Of specific interest, human diabetic retinopathic corneas express substantially less endogenous TB-500 Thymosin Beta-4 than a normal cornea, suggesting an inherent deficiency in ability for diabetics to heal following eye injury or surgery.    Similarly, chronic dry-eye patients were treated with TB-500 Thymosin Beta-4 eye drops, and all in the study had improvement in symptoms, with rare and minimal complications.
TB-500 Thymosin Beta-4 was studied in the setting of chronic hepatitis B combined with nonalcoholic fatty liver disease (NAFLD).  While TB-500 Thymosin Beta-4 had no correlation with HepB Virus levels nor liver function tests (AST, ALT, TG), there was a negative correlation with inflammation and fibrosis scores – meaning that the lower the level of TB-500 Thymosin Beta-4, the worse the inflammation and fibrosis.  This provided preliminary data that TB-500 Thymosin Beta-4 may be beneficial in the setting of certain liver diseases.
A human voluntary safety and tolerance study was performed in 2010, and showed that intravenous (IV) doses from 42mg up to 1260mg daily for 14 days had no treatment related adverse effects, and no evidence of dose related toxicity.
Rhinovirus (a common cold virus) was introduced to healthy volunteers, and blood tests were taken during a five-day period.  This showed that serum cortisol rose along with thymosin alpha 1 and TB500 on the fifth day following intentional exposure.  Simultaneously, t-lymphocytes (CD3+), cytotoxic/suppressor (CD8+), and natural killer (CD16+) cells all rose.  This suggests a cooperative effect among systemic and cellular immune response related to thymosin and respiratory virus exposure.
Kidney disease often includes inflammation, fibrosis, and complications from diabetes.  TB500 has been studied in mice with and without kidney disease; in healthy mice, levels of TB-500 Thymosin Beta-4 did not affect healthy kidney tissue, but in those with known kidney disease, low levels of TB500 correlated with worsening disease.  That is, low levels of natural TB-500 Thymosin Beta-4 accelerated kidney disease.  The study suggested that endogenous TB500 levels function to protect the kidney and slow disease progression.
TB-500 Thymosin Beta-4 has been studied specifically in healing of skin and wounds, showing acceleration in healing of skin in burns, diabetic ulcers, elderly subjects, pressure ulcers, stasis ulcers, and epidermolysis wounds, in both animal and human subjects.  The study shows improvement in angiogenesis (blood vessel formation), anti-inflammatory activity, and to increase platelet aggregation at wound sites.
A meta-analysis (study of studies) conducted in 2015 showed broad applicability of TB-500 Thymosin Beta-4 in various disease processes, including improvement of tissue regeneration, repair of the heart after heart attack, healing of the brain following stroke, trauma and neurological diseases.  Further it showed clinical improvement in kidney and liver diseases, and repair of spinal cord, bone and ligament injuries, as well as reducing consequences of aging and viral infection.
TB-500 Thymosin Beta-4 treated mice were found to have substantially improved strength in healed fractures compared to untreated mice.  Treated mice showed a 41% increase in peak force to failure, and healed fractures were 25% stiffer than untreated mice.  21-day post-fracture imaging showed improvement up to 26% better than untreated subjects.  They also showed 23% smaller callus, and a 31% increase in trabecular bone area/total callus area.  Overall TB-500 Thymosin Beta-4 demonstrated substantially faster healing, with better-healed injury sites when compared to placebo subjects.
Spinal cord injury has been studied in rats, with potential applicability to human subjects.  In a 2014 study, TB500 was administered to rats 30 minutes, 3 days, or 5 days after mild compression induced spinal cord injury in rats.  Locomotor and behavioral assessments were all markedly improved with the TB500 treated group.  Inflammatory cytokines were reduced, the size of scars were markedly reduced, and levels of myelin proteins were 57.8% above the control group.  The study suggested that, with the known safety of TB500, that it should be considered for treatment of spinal cord injury in humans.
While no animal model perfectly mimics humans for head injury research, rats are considered a close second due to our understanding of their behaviors.  TB500 has been studied in traumatic brain injury (TBI), and has been demonstrated to markedly improve function after TBI.  TB500 exerts both neuroprotective and neurorestorative effects on rats, including proliferation of blood flow, new brain cells, and new connections between brain cells.
Multiple sclerosis has also been shown, in rat models, to benefit from administration of TB500.  Zhang et al, in their 2016 study, showed that administration of TB500 significantly increased the number of newly generated oligodendrocytes and reduced axonal damage in the mice compared with control group.  Importantly, the newly generated oligodendrocytes remyelinated axons, and this correlated with functional improvement.
Effects of TB-500 Demonstrated In Recent Studies
Recent laboratory research and clinical studies conducted using TB-500 (Thymosin Beta 4) have shown that it may promote the following:
• Endothelial (blood vessels) cell differentiation
• Angiogenesis (growth of new blood cells from pre-existing vessels) in dermal tissues
• Keratinocyte migration
• Collagen deposition
• Decreases inflammation of tissue in joints
• Increase muscle growth with huge increases in endurance and strength noted
• Relaxed muscle spasm and improved muscle tone
• Increase the exchange of substance between cells
• Encourage tissue repair
• Stretches connective tissue and helps maintain flexibility
• Prevents the formations of adhesions and fibrous bands in muscles, tendons and ligaments.
TB-500 Research
1. TB-500 and Neurologic Function
Research in rats has found that TB-500 encourages central and peripheral nervous system tissues to undergo repair and remodeling following injury. Though the exact mechanism has yet to be elucidated, the research indicates that TB-500 activates the cells that support neurons. These cells, called oligodendrocytes, keep neurons healthy. Boosting their activity actually improves blood vessel and neuron growth in brain regions that have been damaged, a significant laboratory result that is reflected in clinically significant improvements in behavior, motor control, and cognitive measurements.
Recent research shows that TB-500 can reduce oxidative stress following spinal cord injury and help transplanted neural stem/progenitor cells (NSPCs) to survive long enough to enhance spinal regeneration. These findings could make TB-500 and other TB-4 derivatives of great use in treating severe spinal cord injury. TB-550 may offer critical insight into spinal recovery that allows paralyzed individuals to regain use of affected body regions.
2. TB-500 and Blood Vessel Growth
TB-500 and TB-4 are potent stimulators of VEGF expression. VEGF is an important signaling molecule in the growth of capillaries (small blood vessels), which are critical to everything from wound healing to hair growth. It is thought that the role of TB-500 is more complicated than this, however. Scientists speculate that the peptide likely underpins a number of steps in the process of blood vessel growth include extracellular matrix remodeling, vasculogenesis, angiogenesis, and the transition of more primitive mesenchymal tissue to the specialized endothelial tissue that lines blood vessels. This speculation is valid because loss of TB-4 has been shown to interfere with blood vessel growth and stability while exogenous administration improves capillary formation and the recruitment of pericytes following injury.
3. TB-500 and Hair Growth
The discovery that TB-500 improves hair growth happened by accident. When mice that were genetically deficient in TB-4 were shaved for laboratory experiments, it was observed that their hair grew back much slower than wild-type mice. When these same scientists investigated hair growth in mice that were genetically modified to produce increased levels of TB-4, they found that their hair grew back much faster than normal. Under the microscope, these mice show increased numbers of hair shafts and grouped hair follicles.
4. TB-500 and Antibiotic Synergy
Multi-drug resistance is becoming increasingly common in a number of infections, rendering current therapy ineffective. Unfortunately, there are very few new antibiotics in the pipeline and the process of drug development can take upwards of twenty years on average. A recent study on the effects of TB-4 and its adjuvants, however, provides some hope. Studies of mice suffering from a Pseudomonas aeruginosa infection of the eye have found that TB-4 combined with ciprofloxacin, a standard antibiotic for treating Pseudomonas aeruginosa, increases the effects of the antibiotic, improves healing, reduces inflammation, and promotes faster recovery. The results of just five days of combined therapy showed decreased numbers of colony forming units (CFUs), decreased neutrophil (a type of white blood cell) count, and decreased levels of inflammatory reactive oxygen species. This is the first study to demonstrate that TB-500 and similar peptides might be used to promote and enhance the effects of antibiotics.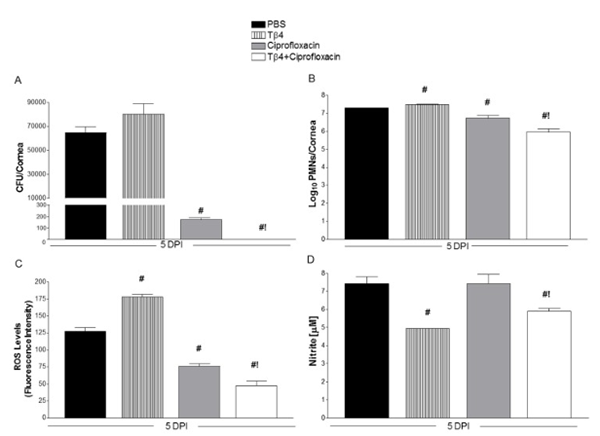 A. Number of colony forming units (CFUs) of bacteria after 5 days of treatment. Note that none are detectable when ciprofloxicin is combined with TB-4.
B. Shows number of neutrophils in the corneas of treated mice, an indication of inflammation.
C. Measure of reactive oxygen species in corneas of mice after 5 days of treatment.
D. Nitrate levels from corneal lysates.
Source: PubMed
5. TB-500 and Cardiovascular Health
Two decades of research have shown that TB-4 and its derivatives have a number of beneficial effects in the cardiovascular and renal systems. The exact mechanisms of these positive contributions are not clearly understood, however. Research suggests that the benefits are actually due to several mechanisms. First, TB-500 promotes the growth of collateral blood vessels, which is useful both as a preventative and in restoring function following disease. Second, TB-500 encourage endothelial cell migration and myocycte survival following a heart attack. Finally, it appears that TB-500 works in concert with other natural signaling molecules to reduce inflammation and reduce fibrosis (scar formation).
Recently, research into hydrogels containing a combination of collagen and TB-4 has shown the peptide promotes angiogenesis and epicardial heart cell migration, thus boosting rates of recovering following ischemia and helping to prevent long-term complications by reducing scarring.
6. TB-500 and Neurodegenerative Diseases
Progress in finding a treatment for neurodegenerative diseases like Alzheimer's and prion disease has been slow at best. A recent study into the effects of TB-4 on the ability of the immune system to deal with prion protein has shown that the peptide enhances autophagy. Autophagy is the central nervous system's primary protective mechanism against neurodegenerative diseases. The ability of TB-4 to enhance this natural immunity is the first progression toward real treatment of these debilitating diseases in a long time.
7. TB-500 Has Wide Application
TB-500 due to its fundamental role in cell structure and function can affect a number of different body tissues. This has resulted in a wide and varied field of research into the effects of this peptide. From treating heart and neurological disease to enhancing the effects of antibiotics, TB-500 is one of the hottest peptides in research today and will likely remain one of the most heavily investigated peptides for the foreseeable future.
TB-500 Thymosin Beta-4 exhibits minimal side effects, low oral and excellent subcutaneous bioavailability in mice. Per kg dosage in mice does not scale to humans. TB-500 Thymosin Beta-4 Peptide for sale at USA peptide Store is limited to educational and scientific research only, not for human consumption. Only buy TB-500 Thymosin Beta-4 if you are a licensed researcher.
Buy Wholesale TB-500 Thymosin Beta-4 Peptide From USA Peptide Store
At USA Peptide Store, our research peptides are of the highest purity and pharmaceutical grade. Our TB-500 Thymosin Beta-4 Peptide comes in 2mg, 5mg and 10mg. We're passionate about our products, and we always strive to provide our customers with the best in both selection and quality. All of the products we provide are tested to verify authenticity and purity, so you can conduct your research with confidence.
Searching for TB-500 Thymosin Beta-4 Peptide for sale? Look no further! Our online peptide store offers a wide range of TB-500 Thymosin Beta-4 Peptide, perfect for your research needs. Whether you're in the United States, Australia, Canada, Germany, Sweden, France, Turkey, Thailand, Italy, Netherlands or the United Kingdom, we have you covered. We provide fast and secure shipping to multiple countries, ensuring that you receive your order conveniently and on time. Purchase TB-500 Thymosin Beta-4 Peptide that are now available for sale and in stock. With our competitive prices and extensive inventory, you can trust us to be your reliable source for TB-500 (Thymosin Beta-4) 2mg, 5mg & 10mg (43aa).
Want to learn more about our products or have a question about payment options? Our customer service team is here to help.  So, what are you waiting for? order TB-500 Thymosin Beta-4 Peptide For Sale and experience first-hand quality service, prompt response and quick shipping. Stock up on the highest quality TB-500 Thymosin Beta-4 Peptide For Sale and more at USA Peptide Store today.
ALL ARTICLES AND PRODUCT INFORMATION PROVIDED ON THIS WEBSITE ARE FOR INFORMATIONAL AND EDUCATIONAL PURPOSES ONLY.
The products offered on this website are furnished for in-vitro studies only. In-vitro studies (Latin: in glass) are performed outside of the body.  These products are not medicines or drugs and have not been approved by the FDA to prevent, treat or cure any medical condition, ailment or disease.  Bodily introduction of any kind into humans or animals is strictly forbidden by law.