BUY GHK TRIPEPTIDE-1 FOR SALE ONLINE
What is GHK?
GHK is a tripeptide with the amino acid sequence glycyl-histidyl-lysine. It naturally occurs in human plasma, saliva, and urine. In plasma, the level of GHK is about 200 ng/mL at age 20, but declines to 80 ng/mL by age 60. This decline in the GHK-level coincides with the noticeable decrease in regenerative capacity of an organism. Scientific research has revealed that GHK can assist in wound healing, infection control, hair growth, cancer, cognitive health, and facial cosmetic use.
GHK Tripeptide-1 For Sale online only at USA Peptide Store where you can buy USA Research Peptides online. Shop over 100 research peptides online now for fast shipping and the best deal! Buy in bulk and Save! USA Peptide Store Your #1 Trusted USA Research Peptides Supplier.
If this product does not meet your needs or interests, you may want to look at GHK-Cu 500mg & 1gram(1000mg) (Copper Peptide) (Topical). Please visit this link for further information on our Cosmetic Peptides (Topical)
---
What is the Difference Between GHK and GHK-Cu?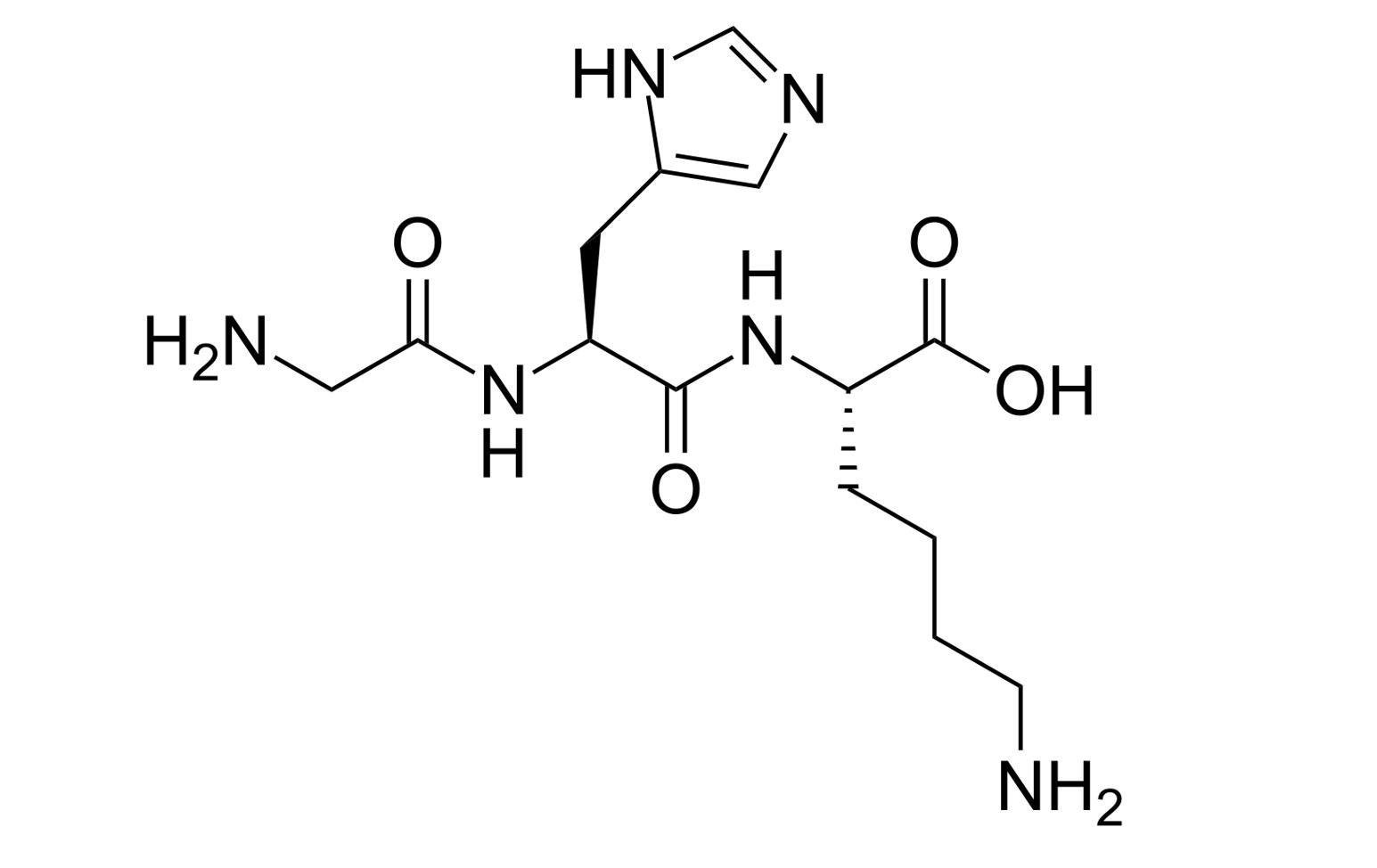 GHK with and without copper affects a large number of genes related to an organism's response to stress and injury (tissue remodeling, anti-oxidant, anti-inflammatory, anti-pain, anti-anxiety, blood vessel growth, nerve outgrowth, anti-cancer action). GHK sequence is included in the collagen molecule, and SPARC protein and GHK is naturally released after an injury due to protein breakdown.
Copper is a transitional metal that is vital for all eukaryotic organisms, from microbes to humans. Since it can be converted from oxidized Cu(II) to reduced Cu(I) form, it functions as an essential cofactor in a multitude of biochemical reactions involving electron transfer. A dozen enzymes use changes in copper oxidation states to catalyze important biochemical reactions, including cellular respiration, antioxidant defense, detoxification, blood clotting, and the connective tissue formation. Copper is required for iron metabolism, oxygenation, neurotransmission, embryonic development and many other essential biological processes.
---
GHK Research
1. GHK Suppresses Fibrinogen Synthesis
Fibrinogen consists of three polypeptide chains; alpha, beta, and gamma. GHK strongly suppresses the gene for the beta chain of fibrinogen. A lack of adequate FGB will effectively stop fibrinogen synthesis since equal amounts of all three polypeptide chains are needed to produce fibrinogen.
GHK also suppresses the production of the inflammatory cytokine interleukin-6 (IL-6) which is a main positive regulator of fibrinogen synthesis, through its interaction with fibrinogen genes. In cell culture systems, GHK suppresses IL-6 secretion in skin fibroblasts and IL-6 gene expression in SZ95 sebocytes. In summary, the effects of GHK on the FGB gene plus its effects on IL-6 production imply a suppression of overall fibrinogen production.
2. GHK Activates the Ubiquitin/Proteasome System (UPS)
The UPS removes damaged proteins. Higher activities of the UPS appear to delay aging effects. GHK stimulated gene expression in 41 UPS genes while suppressing only 1 UPS gene.
3. GHK Activates DNA Repair Genes
DNA damage is promptly repaired in young and healthy cells, however, as we age, DNA damage starts accumulating. Resetting activity of DNA repair genes can diminish deleterious effects of aging. GHK was primarily stimulatory for DNA repair genes (47 UP, 5 DOWN).
4. GHK Acts as an Antioxidant
Free radicals and toxic end products of lipid peroxidation are linked to atherosclerosis, cancer, cataracts, diabetes, nephropathy, Alzheimer's disease and other severe pathological conditions of aging. GHK stimulates 14 antioxidant genes and suppresses two pro-oxidant genes.
5. GHK Suppresses Insulin and Insulin-Like Genes
The insulin family has been proposed as a negative controller of longevity; higher levels of insulin and insulin-like proteins reduce lifespan. GHK stimulates 3 genes in this system and suppresses 6 genes.
The insulin/IGF-1- like receptor pathway is a contributor to the biological aging process in many organisms. The gene expression data suggests that GHK suppresses this system, as 6 of 9 of the affected insulin/IGF-1 genes are suppressed. Insulin/IGF-1-like signaling is conserved from worms to humans. In vitro experiments show that mutations that reduce insulin/IGF-1 signaling have been shown to decelerate the degenerative aging process and extend lifespan in many organisms, including mice and possibly humans. Reduced IGF-1 signaling is also thought to contribute to the "antiaging" effects of calorie restriction.
6. GHK Repairs Tissue by TGF Superfamily
The most explored of GHK's actions is the repair of damaged tissues (skin, hair follicles, stomach and intestinal linings, and boney tissue) either by the use of copper-peptide-containing creams or by induction of systemic healing.
Campbell et al. found that GHK's resetting of gene expression of fibroblasts from COPD patients fits into this category of tissue repair via the TGF beta superfamily. Campbell et al. also found that GHK directly increases TGF beta and other family members which activate the repair process.
7. Cancer Controlling Genes
Caspase, growth regulatory, and DNA repair genes are important in cancer suppression. In 2010, Hong et al. identified 54 genes associated with aggressive, metastatic, human colon cancer. The Broad Institute's Connectivity Map was used to find compounds that reverse the differential expressions of these genes. The results indicated that two wound healing and skin remodeling molecules, GHK at 1 micromolar and securinine at 18 micromolar, could significantly reverse the differential expression of these genes and suggested that they may have a therapeutic effect on the metastasis-prone patients.
Conclusion
The tripeptide GHK possesses many positive effects but declines with age. It improves wound healing and tissue regeneration (skin, hair follicles, stomach and intestinal linings, and boney tissue), increases collagen and glycosaminoglycans, stimulates synthesis of decorin, increases angiogenesis, and nerve outgrowth, possesses antioxidant and anti-inflammatory effects, and increases cellular stemness and the secretion of trophic factors by mesenchymal stem cells. Recently, GHK has even been found to reset genes of diseased cells from patients with cancer or COPD to a healthier state.
GHK exhibits minimal side effects, low oral and excellent subcutaneous bioavailability in mice. Per kg dosage in mice does not scale to humans. GHK for sale at USA Peptide Store is limited to educational and scientific research only, not for human consumption. Only buy GHK if you are a licensed researcher.
Buy Wholesale GHK Tripeptide-1 From USA Peptide Store
At USA Peptide Store, our research peptides are of the highest purity and pharmaceutical grade. Our GHK Tripeptide-1 Peptide for sale comes in 50mg and 200mg. We're passionate about our products, and we always strive to provide our customers with the best in both selection and quality. All of the products we provide are tested to verify authenticity and purity, so you can conduct your research with confidence.
Searching for GHK Tripeptide-1 Peptide for sale? Look no further! Our online peptide store offers a wide range of GHK Tripeptide-1 Peptide, perfect for your research needs. Whether you're in the United States, Australia, Canada, Germany, Sweden, France, Turkey, Thailand, Italy, Netherlands or the United Kingdom, we have you covered. We provide fast and secure shipping to multiple countries, ensuring that you receive your order conveniently and on time. Purchase GHK Tripeptide-1 Peptide that are now available for sale and in stock. With our competitive prices and extensive inventory, you can trust us to be your reliable source for GHK Basic 50mg & 200mg (Tripeptide-1) (Topical).
Want to learn more about our products or have a question about payment options? Our customer service team is here to help.  So, what are you waiting for? order GHK Tripeptide-1 For Sale and experience first-hand quality service, prompt response and quick shipping. Stock up on the highest quality GHK Tripeptide-1 For Sale and more at USA Peptide Store today.