BUY GHK-CU COPPER TRIPEPTIDE FOR SALE ONLINE
GHK-Cu: Copper Tripeptide
GHK-Cu is a natural peptide that forms an ionic complex with copper in human plasma. First isolated in 1973, GHK-Cu has been the subject of extensive research over the decades. It is thought that the primary role of GHK-Cu is to facilitate copper uptake by cells and control copper sequestration, but the properties of the peptide appear to be more extensive than that. GHK-Cu has been shown to impact wound healing, immune function, free-radical scavenging, protein synthesis, nerve growth, blood vessel health, and the aging process.
Most work has focused on wound healing and skin health, with GHK-Cu showing a remarkable ability to increase collage and elastin production, stimulate blood vessel growth, lower inflammation, and increase the anti-oxidant response. Research in animals suggests that GHK-Cu supplementation can more than double the rate of wound healing. Recently, a limited number of animal studies have indicated that GHK-Cu might have an effect on DNA expression to the point that it may partially reverse cognitive impairment in mice and slow the progression of (or even prevent) certain diseases associated with aging.
GHK-Cu Copper Tripeptide For Sale online only at USA Peptide Store where you can buy USA Research Peptides online. Shop over 100 research peptides online now for fast shipping and the best deal! Buy in bulk and Save! USA Peptide Store Your #1 Trusted USA Research Peptides Supplier.
If this product does not meet your needs or interests, you may want to look at Gut Inflammation (60 Capsules) (Stable BPC-157 Arginate, KPV). Please visit this link for further information on our Research Peptides Capsules
---
GHK-Cu Structure
Amino Acid Sequence: Gly-His-Lys(Cu2+)
Molecular Formula: C16H28CuN6O6-2
Molecular Weight: 463.98 g/mol
PubChem CID: 156588903
CAS Number: 49557-75-7
Synonyms: copper glycyl-histidyl-lysine, lamin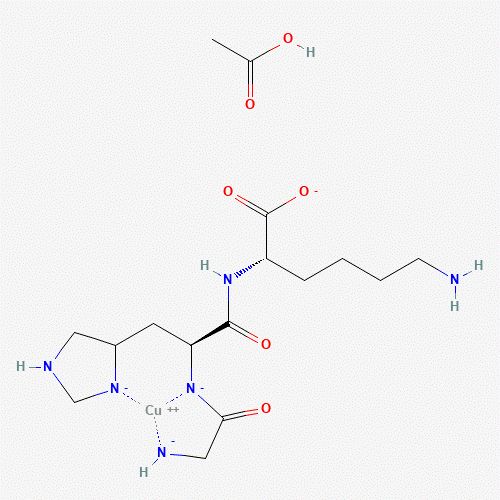 Source: PubChem
---
The Role of Natural GHK-Cu
Normal levels of GHK-Cu in human blood are approximately 200 ng/mL at the age of 20. This level, drops, however, with age. By 60, most people have just 80 ng/mL of GHK-Cu circulating in their blood. It is thought that the reduction in GHK-Cu with age might be one of the reasons that we experience impaired wound healing and reduced immune function as we age. Declines in GHK-Cu are also associated with increased inflammation and a decrease in the normal anti-oxidant response.
Research shows that GHK-Cu Copper Tripeptide For Sale helps to direct repair cells of the immune system (e.g., macrophages, mast cells, and endothelial cells) to the sites where they are needed. It also suppresses free radicals, increases blood vessel dilation, and helps to protect DNA from the effects of UV radiation and x-rays. There is even evidence showing that GHK-Cu can improve skin function and elasticity, promote hair growth, and reduce the incidence of stomach/intestinal ulcers.
GHK-Cu and Aging
Given the wide array of benefits that GHK-Cu has, it should come as no surprise that the short peptide has been extensively studied for its anti-aging capabilities. Its anti-oxidant properties alone make GHK-Cu a primary candidate for study in longevity and aging research, but research tells us that the anti-aging potential of GHK-Cu Copper Tripeptide for sale goes much deeper.
As an anti-inflammatory, GHK-Cu has been shown to be a quencher of the toxic byproducts of certain metabolic processes. In particular, GHK-Cu Copper Tripeptide for sale helps to rid the body of toxic leftovers from lipid degradation, leftovers that have been associated with diabetes and neurodegenerative disease. Research in mice and non-human primates has shown that GHK-Cu Copper Tripeptide for sale decreases inflammation in the brain and may trigger an epigenetic pathway that dampens that impact of cognitive diseases.
The peptide has been shown to reduce reactive oxygen species (free radicals) while also suppressing TNF-α and IL-6 inflammatory signaling. These features make GHK-Cu Copper Tripeptide for sale a powerful antioxidant that helps to protect the body against the negative effect of reactive oxygen species that can lead to cell and DNA damage. Research using skin, lung, liver, and gastric tissue has shown that GHK-Cu Copper Tripeptide for sale doesn't simply protect cells from oxidative damage, however. The small peptide appears to increase tissue regeneration following injury as well, helping to limit the long-term effects of damage and thus reverse the aging process to some extent.
Perhaps most encouraging to anti-aging researchers, however, is the effect that GHK-Cu has on molecules thought to accelerate diseases of aging. Research shows that GHK-Cu Copper Tripeptide for sale can suppress the activity of NFκB, provide a boost to DNA repair enzymes, and even enhance natural cell-cleaning processes carried out by proteasomes.
Of note, epigenetic changes are thought to play an important role in detrimental aging processes that lead to neurodegenerative diseases. This should really come as no surprise given that problems in copper metabolism have been lurking in the background as a potential cause of, or contributor to, a number of neurological conditions. In fact, copper dysregulation has been linked to everything from Parkinson's and Alzheimer's diseases to prion diseases like mad cow and Creutzfeldt-Jacob diseases. And, of course, the rare genetic disorder known as Wilson's disease, which leads to liver and central nervous system damage, has long been understood to be caused by dysregulated copper metabolism. Ultimately, the link between GHK-Cu and the processes of aging should have been clear from the beginning.
Amyloid beta (Aβ), which aggregates to form the neurofibrils associated with Alzheimer's disease, has been shown to be directly affected by the presence of redox-active metal ions like copper. Furthermore, the presence of GHK-Cu Copper Tripeptide for sale can actually prevent the formation of toxic forms of Aβ by preventing aggregation. It appears to do this by sequestering copper and thus removing the necessary catalyst that drives formation of neurofibrillary tangles in the brain. GHK-Cu Copper Tripeptide for sale may not, however, be able to break apart Aβ tangles that have already formed. Thus, the peptide may be a useful preventative for Alzheimer's disease.
GHK-Cu and DNA Processes
As noted above, GHK-Cu appears to have important effects on disease of aging and at least some of these effects appear to be mediated by the peptide's impact on the structure and expression of DNA. Research shows that at least some of the aging process is a direct result of changes in activity of the genome (our collective set of DNA). Basically, with aging comes an increase in genes that promote inflammation and tissue destruction. This increase in negative gene effects is accompanied by a decrease in the activity of regenerative and reparative genes. It's a real one-two hit.
GHK-Cu can be thought of as resetting the imbalance in the genome, helping to restore positive gene effects and reducing negative gene effects. In fact, research from the Broad Institute shows that GHK-Cu alters the expression patterns of 32.1% of all human genes. In other words, GHK-Cu changes how roughly one third of our DNA works.
GHK-Cu and Tissue Repair
The primary focus of GHK-Cu research over the last fifty years has been in its ability to promote tissue repair. In fact, GHK-Cu can be found as a component in several high-end cosmetic skincare products because it has been shown to stimulate collagen and elastin synthesis. Both of these proteins help to reduce wrinkles and improve the overall quality of the skin. Additionally, GHK-Cu helps to attenuate the effects of free radical damage by increasing antioxidant production in the skin.
GHK-Cu research goes far beyond skin cream applications, however. Recent research into the use of GHK-Cu in certain medical products, such as bandages and meshes, has shown that it can help to accelerate wound healing in difficult cases. For instance, research in diabetic mice shows that GHK-Cu increases the growth of blood vessels, collagen deposition, and tissue remodeling to help increase rates of wound closure and speed the healing process.
In the lungs, GHK-Cu has been shown to attenuate the effects of cigarette smoking by helping to prevent pathological changes in lung tissue. This has important implications for the treatment of COPD, but also for the prevention of lung disease in the setting of toxic exposures and accidents. Evidence shows that by reducing the expression of inflammatory cytokines in the alveoli (tiniest parts of the lungs) and altering expression of NFκB, GHK-Cu can improve antioxidant defenses, prevent acute damage, and drastically limit long-term remodeling that leads to scarring and dysfunction of the lungs.
It isn't just the anti-inflammatory and epigenetic effects of GHK-Cu that make it useful in tissue repair. One of the primary impediments to quick tissue healing is the presence of bacteria. Research shows that GHK-Cu can decrease rates of infection in wounds by 27%. As it turns out, the interaction of GHK-Cu with certain fatty acids found in damaged tissue creates a potent anti-microbial agent that can fight off both bacterial and fungal infections.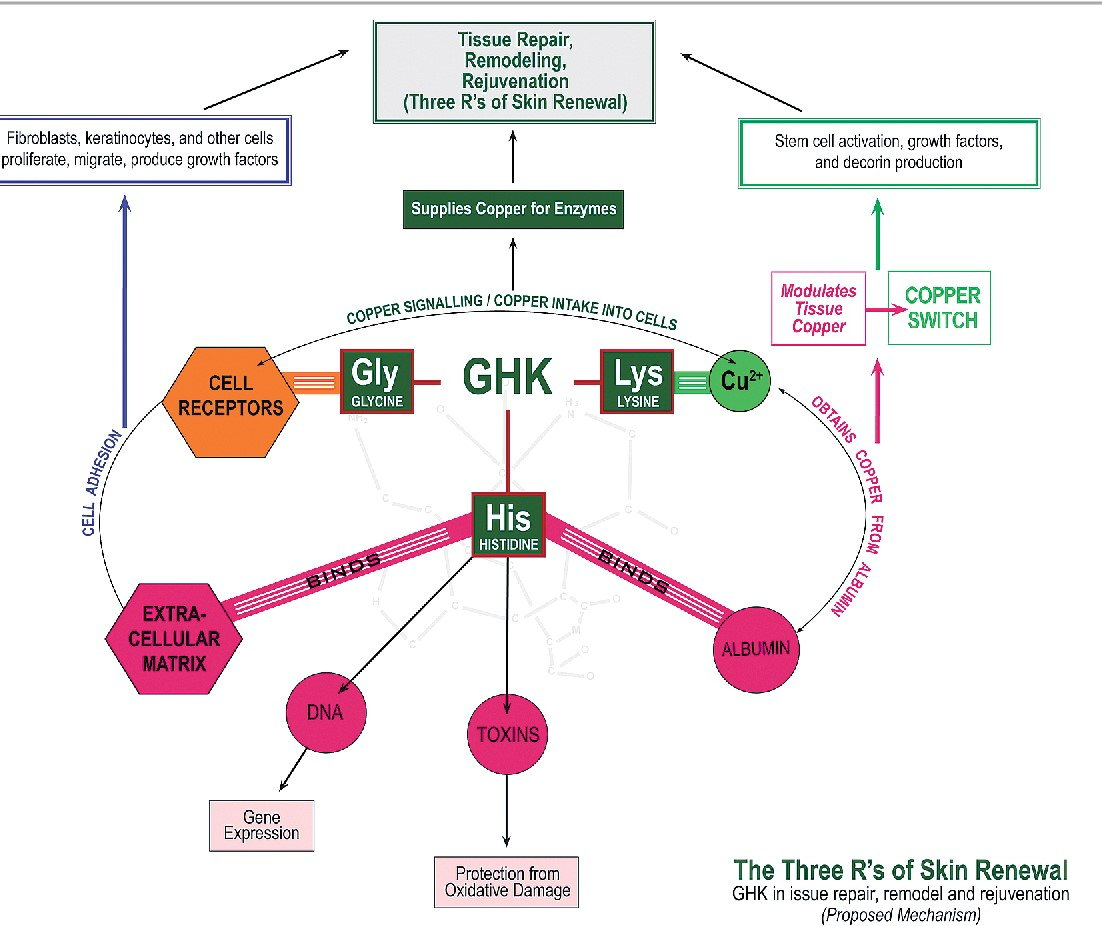 Source: Semantic Scholar
GHK-Cu Administration
In most studies, GHK-Cu is administered via Sub-Q, intravenous or intraperitoneal administration. Research shows that regardless of where or how the peptide is administered, it is distributed throughout the body systemically and makes its way to areas where it can be of use. Thus, administration of GHK-Cu into one leg will result in improved wound healing in the other.
Of course, intravenous administration can be a difficult way to administer anything, particularly in animal trials. As a short peptide, GHK-Cu should be robustly absorbed in the GI tract and easily transported throughout the bloodstream. Research shows that small peptides are easily taken up via both active transporter and through extracellular absorption in the GI tract.
Of importance in the absorption studies is that most peptides are taken up in the small intestine and thus must survive the harsh conditions of the stomach before they will be absorbed. This is a simple enough problem to solve in the modern era with the use of enteric coatings on capsules. The availability of GHK-Cu in such formulations is limited, but can greatly aid in research settings both by facilitating easy administration and by decreasing equipment costs and time invested in IV or intraperitoneal administration.
GHK-Cu Summary
GHK-Cu is a small, naturally occurring peptide with the ability to attenuate inflammation, improve anti-oxidant responses, and alter gene expression on a large scale. Research shows that this copper-chelating peptide may be of critical importance both in the prevention of neurodegenerative disease and as a tool for exploring pathophysiological mechanisms. Studies in mice have revealed that GHK-Cu can protect against neurological insults, improve wound healing, reduce rates of infection, and boost blood vessel growth. The peptide has been of interest in recent years for its anti-oxidant properties that, in combination with its ability to alter gene expression patterns, appear to help slow or even reverse some aspects of aging.
Buy Wholesale GHK-Cu Copper Tripeptide From USA Peptide Store
At USA Peptide Store, our research peptides are of the highest purity and pharmaceutical grade. Our GHK-Cu Copper Tripeptide comes in 2mg (60 capsules). We're passionate about our products, and we always strive to provide our customers with the best in both selection and quality. All of the products we provide are tested to verify authenticity and purity, so you can conduct your research with confidence.
Searching for GHK-Cu Copper Tripeptide for sale? Look no further! Our online peptide store offers a wide range of GHK-Cu Copper Tripeptide, perfect for your research needs. Whether you're in the United States, Australia, Canada, Germany, Sweden, France, Turkey, Thailand, Italy, Netherlands or the United Kingdom, we have you covered. We provide fast and secure shipping to multiple countries, ensuring that you receive your order conveniently and on time. Purchase GHK-Cu Copper Tripeptide that are now available for sale and in stock. With our competitive prices and extensive inventory, you can trust us to be your reliable source for GHK-Cu (2mg x 60 Capsules) (Copper Tripeptide).
Want to learn more about our products or have a question about payment options? Our customer service team is here to help.  So, what are you waiting for? order GHK-Cu Copper Tripeptide For Sale and experience first-hand quality service, prompt response and quick shipping. Stock up on the highest quality GHK-Cu Copper TriPeptide For Sale and more at USA Peptide Store today.