BUY OVAGEN PEPTIDE FOR SALE ONLINE
Ovagen
Ovagen is a tripeptide bioregulator that should not be confused with the similarly named Ovagen that contains ovine (sheep) follicle stimulating hormone (FSH). The two products are not the same and have entirely different functions. While the FSH derivative promotes ovulation, particularly in women suffering from conditions like polycystic ovarian syndrome (PCOS), the tripeptide is a liver function regulator. Throughout this article, Ovagen will refer to the tripeptide bioregulator.
Ovagen is a Khavinson peptide, developed along with a number of other peptides, by Dr. Vladimir Khavinson. Like other bioregulators, Ovagen is able to cross cell and nuclear membranes to directly regulate DNA structure and transcription patterns. Also, like most other bioregulatory peptides, Ovagen has tissue-specific effects. The Glu-Asp-Leu peptide primarily serves to regulate and normalize liver and digestive tract function, though there is some evidence to suggest it may also be useful in controlling the reproduction of the HIV virus. This latter finding has made Ovagen of interest to HIV researchers looking to understand the virus lifecycle.
Ovagen Peptide For Sale online only at USA Peptide Store where you can buy USA Research Peptides online. Shop over 100 research peptides online now for fast shipping and the best deal! Buy in bulk and Save! USA Peptide Store Your #1 Trusted USA Research Peptides Supplier.
If this product does not meet your needs or interests, you may want to look at Pancragen Peptide 20mg (Bioregulator). Please visit this link for further information on our Bioregulator Peptides
---
Ovagen Structure
Amino Acid Sequence: Glu-Asp-Leu (EDL)
Molecular Formula: C15H25N3O8
Molecular Weight: 375.37 g/mol
PubChem CID: 444128
Synonyms: EDL, glutamyl-aspartyl-leucine, SCHEMBL5329396, 1a30, CHEBI:137252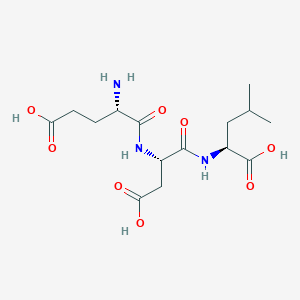 Source: PubChem
---
Ovagen and the Liver
According to research from Dr. Khavinson, Ovagen is a bioregulator of the GI tract and liver. In the liver, it has been found to promote cell proliferation and prevent scarring and fibrotic changes that can lead to cirrhosis. In the GI tract, Ovagen helps to boost mucosal barrier function and reduces complications from antibiotic treatment, environmental insults, chemotherapy, malnutrition, and more.
Like most bioregulators, the most robust effects of Ovagen are seen in older individuals. The peptide appears to roll back DNA changes that occur with age, helping to reset the DNA in liver fibroblasts and GI mucosal cells to a more youthful state. In this more youthful state, the DNA is less condensed and therefore more genes are available for transcription. This results in a more functional cell that is less senescent and therefore "healthier."
Research shows that Ovagen is well tolerate and may be useful in normalizing the function of the liver and GI tract in a number of different inflammatory and disease conditions. It may also be useful in the postoperative setting, during long-term antibiotic therapy, for overcoming the side effects of cancer treatments, and even as a diabetes preventative. Research on the GI and liver effects of Ovagen is ongoing.
Ovagen and HIV
The HIV-1 protease is an enzyme necessary for the HIV virus to survive. It functions to cleave newly synthesized proteins that make up the mature HIV virion. This infectious form of the HIV virus will not function without the HIV-1 protease. In other words, the enzyme is essential for the HIV virus to be able to infect more cells. Without the protease, the HIV virus produces non-infectious progeny and dies out. A number of HIV protease inhibitors are currently FDA approved and used in treatment. Unfortunately, the virus's high mutation rate results in relatively rapid formation of resistance.
Research on Ovagen reveals that it is an effective HIV-1 protease inhibitor. In fact, it is one of the smallest and most potent protease inhibitors known with an effective concentration of just 50 microM. Unlike other protease inhibitors, Ovagen is highly soluble in water. This latter fact makes it easier to administer.
Ovagen Summary
Ovagen is a tripeptide bioregulator with primary effects in the liver and GI tract. Though research on this Khavinson peptide is limited at this point, it has shown promise as a potential anti-aging peptide in the liver and GI tract. Ovagen reduces long-term fibrosis in the liver and helps to protect the GI mucosal layer from the effects of antibiotics, environmental toxins, and even chemotherapy. There is also interest in the ability of Ovagen to inhibit the replication of HIV.
Buy Wholesale Ovagen From USA Peptide Store
At USA Peptide Store, our research peptides are of the highest purity and pharmaceutical grade. Our Ovagen peptide comes in 20mg. We're passionate about our products, and we always strive to provide our customers with the best in both selection and quality. All of the products we provide are tested to verify authenticity and purity, so you can conduct your research with confidence.
Searching for Ovagen peptide for sale? Look no further! Our online peptide store offers a wide range of Ovagen peptide, perfect for your research needs. Whether you're in the United States, Australia, Canada, Germany, Sweden, France, Turkey, Thailand, Italy, Netherlands or the United Kingdom, we have you covered. We provide fast and secure shipping to multiple countries, ensuring that you receive your order conveniently and on time. Purchase Ovagen peptide that are now available for sale and in stock. With our competitive prices and extensive inventory, you can trust us to be your reliable source for Ovagen 20mg (Bioregulator).
Want to learn more about our products or have a question about payment options? Our customer service team is here to help.  So, what are you waiting for? order Ovagen Peptide For Sale and experience first-hand quality service, prompt response and quick shipping. Stock up on the highest quality Ovagen Peptide For Sale and more at USA Peptide Store today.