BUY BPC-157 (ARGINATE SALT) AND THYMOSIN BETA 4 FRAGMENT (TB500) PEPTIDE FOR SALE ONLINE
Synergy for Repair and Recovery: BPC-157 (Arginate Salt) and Thymosin Beta 4 Fragment (Ac-SDKP)
Both Thymosin Beta 4 and BPC-157 have undergone extensive research for their ability to promote wound healing and increased rates of tissue repair. Both peptides have been shown to be involved in angiogenesis, cell migration, and reducing inflammation. Interestingly, despite their known individual benefits, BPC 157 and Thymosin Beta 4 have not been extensively tested in combination. Given their obvious benefits in wound healing, there is potential for substantial synergy between these two peptides that are both derived from naturally occurring human proteins.
BPC-157 (Arginate Salt) and Thymosin Beta 4 Fragment (TB500) Peptide For Sale online only at USA Peptide Store where you can buy USA Research Peptides online. Shop over 100 research peptides online now for fast shipping and the best deal! Buy in bulk and Save! USA Peptide Store Your #1 Trusted USA Research Peptides Supplier.
If this product does not meet your needs or interests, you may want to look at Tesofensine Peptide 500mcg. Please visit this link for further information on our Research Peptides Capsules
---
Thymosin Beta 4 versus Thymosin Beta 4 Fragment (Ac-SDKP)
Thymosin beta 4 is a natural human protein. It is made up of 43 amino acids and has a molecular weight of 4,291 g/mol. It is capable of binding to actin proteins and is considered to be the principal actin-sequestering protein in most cells. It therefore plays a very important role in the polymerization of actin filaments, which are important for cell structure, cell mobility, and extracellular matrix function. There is speculation, though currently no concrete evidence, to suggest that thymosin beta 4 binds to extracellular receptors in the fluids surrounding cells to mediate some of its effects.
Like many naturally occurring proteins, Thymosin Beta 4 is a very long peptide sequence and is therefore restricted to subcutaneously administration only. It is not orally bioavailable like this fragment. Because TB500 Fragment is substantially smaller than its parent molecule, it's more readily absorbed by the GI tract and then by cells. This enhanced oral bioavailability makes TB500 Fragment (Ac-SDKP) simpler to administer than the 43 amino acid Thymosin Beta 4 and contributes to the fragment's efficacy.
Thymosin Beta 4 and AC-SDKP
The TB500 Fragment (Ac-SDKP) is a small, 4 amino acid (Ac-Ser-Asp-Lys-Pro) peptide that maintains many of the larger peptide's properties. Ac-SDKP has been found to occur naturally and is broken down by ACE (angiotensin converting enzyme) activity. This may be the reason that ACE inhibitors help to prevent scarring and cardiac remodeling because Ac-SDKP is an anti-fibrotic and anti-inflammatory peptide known to promote blood vessel growth, reduce inflammation, and reduce scarring following injury.
Ac-SDKP (TB-500 Fragment)
Sequence: Ac-SDKP
Molecular Formula: C20H33N5O9
Molecular Weight: 487.5 g/mol
PubChem CID: 65938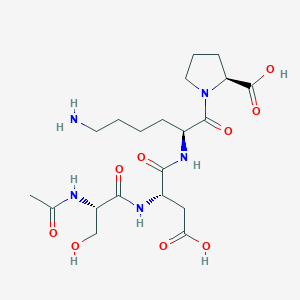 Source: PubChem
---
Body Protection Compound: Arginate and Acetate Salts
BPC 157 is a derivative of the natural protein called BPC (body protection compound). BPC was originally isolated from human gastric contents but was found to be unstable, difficult to administer, and difficult to produce. The smaller BPC 157 is easier to produce than standard BPC, but it is not particularly stable and is not as orally bioavailable. To solve this problem, scientists attached an acetate group to BPC 157. This solved the problem of stability during storage, but rendered BPC 157 vulnerable to human gastric contents. Thus, the acetate salt of BPC 157 does not have a high oral bioavailability and must be administered parenterally, for example, Sub-Q. This can be problematic in developing protocols for rodent studies and would ultimately make BPC 157 less desirable as a prescription drug should it make it through phase 3 trials.
To overcome this problem, researchers developed an arginate salt of BPC 157. The BPC-157 arginate salt is very stable in human gastric juice and boosts the oral bioavailability from less than 3% to greater than 90%. BPC 157 arginate salt is also more stable in low temperature environments and can resist the effects of UV light.
Why are BPC 157 and Thymosin Beta 4 Fragment (Ac-SDKP) Synergistic in Repair and Recovery?
Though both BPC 157 and TB4 Fragment are active in accelerating repair and recovery, the two peptides do not have the same mechanism of action. BPC 157 is probably the less understood of the two peptides. Research has revealed that it is active in gut and neurological tissue as well as tendon and muscle injuries. It has angiogenic properties and is a potent anti-inflammatory. Researchers aren't certain how BPC 157 works exactly, but they do know that it enhances fibroblast function and thus the generation and maintenance of the extracellular matrix.
TB-500 is a 7 amino acid derivative of Thymosin Beta 4 and Ac-SDKP is a shorter, 4 amino acid derivative of Thymosin Beta 4. TB500 and Ac-SDKP have similar functions. They both play a critical role in cell migration and angiogenesis among other things. Ac-SDKP could supercharge the migration of endothelial cells, while TB-500 can help activate those cells so they can perform wound healing at the sites they've migrated to. Although, Ac-SDKP does not activate the migration of pluripotent stem cells like TB500 and the complete Thymosin Beta 4 do. The Thymosin Beta 4 fragment (Ac-SDKP) prevents stem cells from differentiating into cells beyond endothelial cells and blood vessels, which may be worth studying in certain cancers not caused by cancerous endothelial cells.
Synergy in Neurological Recovery
TB500 has been shown in rat models to encourage the growth and proliferation of both central and peripheral nervous system tissues following injury. It is thought that TB500 activates the cells that support neurons, allowing them to provide more nutrients to the damaged cells as they recover. Research in rats has shown that TB500 administration leads to substantial improvements in behavior, motor control, and cognitive impairment.
Research also indicates that TB500 can help to reduce oxidative stress and improve the recovery of neural stem cells (neural progenitor cells/NSPCs). BPC 157 may play a similar role in the brain as research has shown that it protects somatosensory neurons from injury both directly and by reducing inflammation in the nervous system. BPC 157 also appears to play a protective role in the central nervous system, helping it to prepare for insults before they happen. It isn't clear how it achieves this function, but it is known to play an important role in signaling from the GI system. Researchers speculate that it may act as an early warning molecule to the brain, letting it know that a noxious insult is on the way so that it can prepare. Research in this particular area is quite new, but there is good reason to believe that BPC 157 helps the brain to maintain homeostasis even in the setting of traumatic injury and noxious insult.
Ac-SDKP has been tested in mouse models of multiple sclerosis and found to help decrease levels of inflammatory molecules in the brain. This results in reversal of demyelination, the hallmark of multiple sclerosis and a marker of disease severity. This benefit is probably mediated by enhanced neural supportive cell migration; the same mechanism discussed in the paragraph above.
Together, BPC 157 and TB 500 could substantially impact the health of the nervous system by reducing inflammation and oxidative stress, protecting cells that support neurons, and improving migration of cells that partake in tissue repair. Combined research on these two peptides has never been carried out, but could offer insight into how to both prevent and treat the consequences of neurological injury. This combination could be a good research target in the settings of traumatic brain injury, stroke, and even neurodegenerative diseases like ALS and Alzheimer's disease.
Muscle Recovery and Bone Strength with BPC 157 and TB-4 Fragments (Ac-SDKP)
BPC 157 is an efficient promoter of tendon healing. Tendons are notoriously difficult to repair following injury and generally require surgical intervention to restore full function and range of motion. Research shows that BPC 157 accelerates tendon repair by boosting fibroblast outgrowth and migration. Interestingly, BPC 157 also improves the quality of the repair. That is to say, BPC 157 not only speeds recovery of injured tendons, it improves the outcome such that the tendon is stronger and more functional than had BPC 157 not been administered.
TB500 has not been directly tested in tendon or muscle repair, but there is good reason to think the peptide would be effective in speeding musculoskeletal recovery both following injury and following exercise. Because TB500/Ac-SDKP speeds the rate of migration of cells, it would directly impact tendon repair where fibroblast migration has been observed to be slow and incomplete under natural circumstances.
The slow migration of immune cells and fibroblasts into tendons is at least in part a consequence of poor blood supply. Both BPC 157 and Ac-SDKP are angiogenic and accelerate the growth of blood vessels. Together, these peptides can boost blood supply to injured tissue, particularly to tissue like tendons which have inadequate blood supply for healing to begin with. This not only speeds recovery by getting repair cells where they need to be, it improves the final outcome by increasing extracellular matrix deposition.
Another way in which BPC 157 and TB500 may interact during musculoskeletal is via an interesting boost to the effects of growth hormone. Research shows that BPC 157 increases the expression of growth hormone receptors on fibroblasts. Growth hormone is extremely important in musculoskeletal development and repair, but supplementation for tissue repair has never been seriously considered due to potential side effects. BPC 157 circumvents some side effects by boosting receptors rather than the hormone itself. This leads to targeted benefits in tissue repair without as many traditional side effects. So, fibroblasts essentially receive a boost of GH by expressing more receptors, which can lead to their proliferation and increase their longevity. Combined with the motility effects of TB500, BPC 157 can enhance the function of fibroblasts. In other words, not only are there more repair cells to get the work done, the cells that are involved in the repair are more effective. The benefits stack up on one another to potentially supercharge the healing process.
The Thymosin Beta 4 and BPC 157 Synergy
The benefits of TB-4 and BPC 157 generally arise from the fact that these two peptides affect the same cells in slightly different ways. The derivatives of Thymosin beta 4, Ac-SDKP and TB-500, boost cell migration and cell motility. This may sound trivial, but the ability of cells like fibroblasts to get to sites of injury is a rate limiting step in tissue repair. Many of these cells die before they reach their destination or simply don't last long once they get there, so boosting their ability to move around is of massive benefit.
Combining the ability of cells to get to the site of injury with an ability to function better and for longer once they are there is a triple synergy. This is where BPC 157 builds on the benefits of thymosin beta 4. BPC 157 improves fibroblast cell function by increasing growth hormone receptor density, thus improving both the longevity of these cells and their ability to grow/divide during the healing process. The result is that more cells get to the site of tissue injury and they are healthy when they get there. Healthy cells not only do more work, they produce more offspring that can then also do more work. This is why combining thymosin beta 4 with BPC 157 is likely not just an additive process, but a multiplicative process. The benefits build on one another to dramatically increase tissue recovery following injury. This is why these two peptides are of interest in cardiac research, brain and central nervous system research, musculoskeletal injury and repair, and gastrointestinal healing. There is research potential for these peptides, used in appropriate combination and for the right periods of time, to help boost healing in neurodegenerative disease, inflammatory diseases, infection, and injury. What needs to be done now is rodent studies with the peptides combined. It is time for someone to develop the protocols and knowledge base necessary to put these peptides to use safely and effectively in studies. That will come from additional research and right now the door for developing new protocols and experiments is wide open.
BPC-157 (Arginate Salt) and Thymosin Beta 4 Fragment (TB500) exhibits minimal side effects, good oral and excellent subcutaneous bioavailability in mice. Per kg dosage in mice does not scale to humans. BPC-157 (Arginate Salt) and Thymosin Beta 4 Fragment (TB500) for sale at USA Peptide Store is limited to educational and scientific research only, not for human consumption. Only buy BPC-157 (Arginate Salt) and Thymosin Beta 4 Fragment (TB500) if you are a licensed researcher.
Buy Wholesale BPC-157 (Arginate Salt) and Thymosin Beta 4 Fragment (TB500) From USA Peptide Store
At USA Peptide Store, our research peptides are of the highest purity and pharmaceutical grade. Our BPC-157 (Arginate Salt) and Thymosin Beta 4 Fragment (TB500) peptide comes in 2.5mg (60 capsules). We're passionate about our products, and we always strive to provide our customers with the best in both selection and quality. All of the products we provide are tested to verify authenticity and purity, so you can conduct your research with confidence.
Searching for BPC-157 (Arginate Salt) and Thymosin Beta 4 Fragment (TB500) peptide for sale? Look no further! Our online peptide store offers a wide range of BPC-157 (Arginate Salt) and Thymosin Beta 4 Fragment (TB500) peptide, perfect for your research needs. Whether you're in the United States, Australia, Canada, Germany, Sweden, France, Turkey, Thailand, Italy, Netherlands or the United Kingdom, we have you covered. We provide fast and secure shipping to multiple countries, ensuring that you receive your order conveniently and on time. Purchase BPC-157 (Arginate Salt) and Thymosin Beta 4 Fragment (TB500) peptide that are now available for sale and in stock. With our competitive prices and extensive inventory, you can trust us to be your reliable source for Repair and Recovery (60 Capsules) (Stable BPC-157 Arginate, Thymosin Beta-4 Fragment).
Want to learn more about our products or have a question about payment options? Our customer service team is here to help.  So, what are you waiting for? order BPC-157 (Arginate Salt) and Thymosin Beta 4 Fragment (TB500)Peptide For Sale and experience first-hand quality service, prompt response and quick shipping. Stock up on the highest quality BPC-157 (Arginate Salt) and Thymosin Beta 4 Fragment (TB500) Peptide For Sale and more at USA Peptide Store today.