BUY IGF-1 LR3 RECEPTOR GRADE PEPTIDE FOR SALE ONLINE
IGF-1 LR3 (Receptor Grade) 1mg
Receptor Grade IGF-1 LR3 is a premium research reagent for use in cell growth studies, IGF receptors and IGF binding proteins and is more potent than rH IGF-1 and Media Grade IGF-1 LR3 in-vitro due to the drastic increase in biological activity (stronger affinity for the IGF receptor). This increased biological activity is what sets Receptor Grade IGF-1 LR3 apart from Media Grade (standard) IGF-1 LR3.
Media grade IGF-1 LR3 is more commonly used in commercial cell culture vs mammalian and can also be used as a research reagent at an economical cost to enable studies where biological potency is of less value. To maximize results in an animal-based in-vitro cell study or production, Receptor Grade IGF-1 LR3 should be used exclusively.
The supplementation of mammalian cell cultures with Long R3 IGF-1 at a much lower concentration results in more highly elevated productivity than with standard concentrations of insulin and/or standard IGF-1. IGF-1 LR3 is better able to stimulate the type 1 IGF receptor and thus induce a higher level of intracellular signaling, cell proliferation and inhibition of apoptosis.
Receptor Grade IGF-1 LR3 is more biologically active than standard IGF-1 LR3, in-vitro. Resultantly, Receptor Grade IGF-1 LR3 will deliver superior results in comparison to standard IGF-1 LR3.
IGF-1 LR3 Receptor Grade Peptide For Sale online only at USA Peptide Store where you can buy USA Research Peptides online. Shop over 100 research peptides online now for fast shipping and the best deal! Buy in bulk and Save! USA Peptide Store Your #1 Trusted USA Research Peptides Supplier.
If this product does not meet your needs or interests, you may want to look at IGF1 LR3 Peptide 1mg. Please visit this link for further information on our IGF-1 Peptides
IGF-1 LR3, Recepto Grade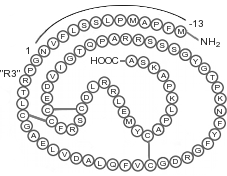 Sequence: MFPAMP LSSLF VNGPR TLCGA ELVDA LQFVC GDRGF YFNKP TGYGS SSRRA PQTGIV DECCFR SCDLRR LEMY CAPLK PAKSA
Molar Mass: 9,111 Da
Synonyms:Long Arg3 IGF-1 (Receptor Grade)
Long R3 IGF-1, Receptor Grade
IGFB Binding and The Increased Biological Activity of Long R3 IGF-1
By resisting IGFBP-binding, IGF-1 LR3 has a greater effect than IGF-1. The longer duration of action allows for smaller amounts to be used with the same effects. Some IGF-1 derivatives, such as the GPE derivative, made up of just the last three N-terminal amino acids of the IGF-1 protein, have been shown to have therapeutic effects in neurological injuries like stroke. Most studies concerning the effects of IGF-1 derivatives have been carried out in non-human animal models or cell culture studies.
Insulin Like Growth Factor Receptor Interactions
IGF-1 binds to at least two cell surface receptors: IGF-1R and the insulin receptor. The IGF-1 receptor is referred to as the "physiologic" receptor because IGF-1 binds to it with significantly higher affinity (approximately 100 times higher) than it does to the insulin receptor. By binding to IGF-1R, IGF-1 can affect metabolism, cell growth (hypertrophy), differentiation and cell division (hyperplasia), prevention of cell death (apoptosis), normal development, and even malignant growth.
IGF-1R has been implicated in several different types of cancer include breast, prostate, and lung cancer. IGF-1 also binds to the insulin receptor and activates it, thereby encouraging cells to take up glucose from the blood stream. The effects of IGF-1 on muscle cells are three-fold. Firstly, IGF-1 encourages hyperplasia, or an increase in the number of muscle cells. Secondly, IGF-1 has a strong effect on skeletal muscle – In regards to the life span of satellite cells.
Satellite cells support muscle cells, providing them with needed nutrients and helping them to operate efficiently. By increasing the lifespan of these cells, IGF-1 helps to increase their number with muscle tissue. Finally, IGF-1 encourages differentiation of myoblasts, which is to say that it encourages the conversion of stem cell progeny from nonspecific pluripotent stem cells into dedicated muscle tissue. In this way, IGF-1 increases the rate of muscle development by increasing the rate at which generic stem cells are converted to muscle cells.
Buy Wholesale IGF-1 LR3 Receptor Grade From USA Peptide Store
At USA Peptide Store, our research peptides are of the highest purity and pharmaceutical grade. Our IGF1 LR3 Receptor Grade peptide comes in 1mg and 100mcg x 10 Vials. We're passionate about our products, and we always strive to provide our customers with the best in both selection and quality. All of the products we provide are tested to verify authenticity and purity, so you can conduct your research with confidence.
Searching for IGF1 LR3 Receptor Grade peptide for sale? Look no further! Our online peptide store offers a wide range of IGF1 LR3 Receptor Grade peptide, perfect for your research needs. Whether you're in the United States, Australia, Canada, Germany, Sweden, France, Turkey, Thailand, Italy, Netherlands or the United Kingdom, we have you covered. We provide fast and secure shipping to multiple countries, ensuring that you receive your order conveniently and on time. Purchase IGF1 LR3 Receptor Grade peptide that are now available for sale and in stock. With our competitive prices and extensive inventory, you can trust us to be your reliable source for IGF-1 LR3 (Receptor Grade) 1mg & (100mcg x 10 Vials).
Want to learn more about our products or have a question about payment options? Our customer service team is here to help.  So, what are you waiting for? order IGF-1 LR3 Receptor Grade Peptide For Sale and experience first-hand quality service, prompt response and quick shipping. Stock up on the highest quality IGF-1 LR3 Receptor Grade Peptide For Sale and more at USA Peptide Store today.